Stone Crushing production line
The stone crushing production line consists of vibrating feeder, jaw crusher, impact crusher, vibrating screen, belt conveyor, centralized electronic control, etc. Its designed throughput generally is 50-500 t/h. Cone crushers, dust-removing equipments and other machines can be added to this line, in order to meet the different processing requirements of clients.
Stone Crushing Machine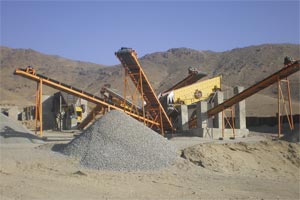 Jaw crusher is mainly used to crush all kinds of ores and medium-sized particles of material blocks; also, it can produce cornerstone and stone aggregate for buildings.
Impact crusher is used in rough crushing, intermediate crushing and fine crushing of brittle materials whose hardness are below the average, like limestone, coal, calcium carbide, quartz, dolomite, sulfide iron ore, gypsum, chemical raw materials, etc.
Cone crusher improves the production capacity and crushing efficiency; what's more, it enlarges its field of application: from quartz to basalt, from stone production to various ores crushing. Cone crusher can perform unparalleled crushing function in operations of intermediate crushing, fine crushing and superfine crushing. Impact crusher can finely crush various ores and rocks with different high hardness, like iron ore, nonferrous metal, emery, bauxite, quartz sand, brown aluminium oxide, perlite, basalt, etc.
Stone Crushing process
Firstly, Massive stones are evenly sent from feed bin to jaw crusher for rough crushing through vibrating feeder, then to impact crusher for further crushing sent by belt conveyor. Secondly, through belt conveyor, the fine crushed stones are transferred to vibrating screen for screening, so stones of different sizes will be screened out. Thirdly, the stones which meet requirement of finished products will be transferred to finished products pile, while the others will be sent back to impact crusher by belt conveyor for crushing again. In this way the closed-circuit cycles are formed. According to clients' requirements, combination and classification of finished particles can be conducted. Also, in order to protect the environment, the assistant dust-removing machines can be allocated.
Stone crushing plant