Vertical Mill Overview
LM series vertical mill is the newest grinding machine of vertical mill professional manufacturer-ZENITH , which is designed specially to solve the problems of low capacity and high consumption of traditional industry mills. With a decade of years' research of mills, our vertical mill is designed and manufactured based on advanced design idea, and integrates the advanced international technology and years of mill-producing experience.
LM series vertical mill adopts reliable structure and reasonable process flow; it is ideal equipment that integrated with drying, milling, classifier, and elevator. Especially, this vertical mill can fully meets the requirement of clients in the high production of powder and its main technical and economy indicator reaches the international level.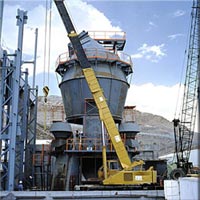 Vertical Mill Application
LM series vertical mill can be widely used in cement making, power, metallurgy, chemical and nonmetalliferous ore industries. This series vertical grinding mill used to grind lumpy, granular and powdery materials to the required size.
Vertical Mill Features
1. LM series vertical mill can crush, dry, grinding, classifying, so the system is simple, and occupation area is about 50% of ball mill system. In addition, it can be installed outside, so LM vertical mill will reduce a large number of investment costs.
2. Roller of this series vertical mill compacted materials directly onto the grinding disc, so power consumption is low.
3. As the hot air inside contacts directly with the material, drying ability is higher, and it saves energy. By regulating the air temperature, this series vertical grinding mill can meet requirements with different humidity.
4. LM series vertical mill is equipped with automatic control systems, so remote control makes it easy to operate.
5. When the material stays in the mill for a short time, vertical mill is easy to detect and control the product particle size and chemical composition, to reduce duplication of milling, stable product quality.
6. In addition to the above advantages, our vertical roller mill also has the following advantages: maintenance convenience, environmental protection and so on.
Vertical Mill Technical Data
Vertical Mineral Mill Model and Technical Date
Model
LM130K
LM150K
LM170K
LM190K
LM220K
LM240K
Rotate Median Diameter (mm)
1300
1500
1700
1900
2200
2400
Capacity ( t/h)
10~30
13~40
18~57
23~72
36~114
41~128
Product Size
mm
170~45
170~45
170~45
170~45
170~45
170~45
mesh
80~325
80~325
80~325
80~325
80~325
80~325
Moisture
��1%
��1%
��1%
��1%
��1%
��1%
Max Feeding Size ( mm)
<38
<40
<42
<45
<50
<55
Moisture of Feeding Material
<4%
<4%
<4%
<4%
<4%
<4%
Moisture Should Be Dry
<15%
<15%
<15%
<15%
<15%
<15%
Temperature of Inlet (��)
<350
<350
<350
<350
<350
<350
Temperature of Outlet (��)
70~95
70~95
70~95
70~95
70~95
70~95
Power of Main Motor(kW)
185~220
250~280
355~400
450~500
710~800
800~900
Overall Dimension
Length(mm)
3500
4200
4700
8500
10200
11700
Width(mm)
3400
3900
4500
5600
6700
7700
Height (mm)
5800
7100
8300
8800
10600
12200
Weight (t)
48
75
90
100
125
160
Vertical Coal Mill Model and Technical Date
Model
LM130M
LM150M
LM170M
LM190M
LM220M
LM240M
Rotate Median Diameter (mm)
1300
1500
1700
1900
2200
2400
Capacity ( t/h)
10~15
16~22
20~28
26~35
35~45
40~50
Product Size ( R0.08)
<15%
<15%
<15%
<15%
<15%
<15%
Moisture
<1%
<1%
<1%
<1%
<1%
<1%
Max Feeding Size (mm)
<38
<40
<42
<45
<50
<55
Moisture of Feeding Material
<15%
<15%
<15%
<15%
<15%
<15%
Temperature of Inlet (��)
<350
<350
<350
<350
<350
<350
Temperature of Outlet (��)
75~95
75~95
75~95
75~95
75~95
75~95
Hardgrove Grindability Index (HGI)
>55
>55
>55
>55
>55
>55
Power of Main Motor ( kW)
185
250
315
400
500
560
Overall Dimension
Length (mm)
3500
4200
4700
8500
10200
11700
Width(mm)
3400
3900
4500
5600
6700
7700
Height(mm)
5800
7100
8300
8800
10600
12200
Weight ( t)
46
75
94
100
122
157