VSI Crusher Overview
VSI Crusher is newly researched equipment, with international advanced level. Technology and modern processing equipment make it a leading role in this industry.
VSI Crusher Application
VSI crushers are widely applied in expressway and railway building, hydropower station construction, bridge and tunnel building, concrete batching plant, especially for crushing and gravel shaping. VSI crushers are highly recommended when it comes to the shaping of gravels used in concrete aggregates, whose concrete strength is above C 60 or which required to be freezeproof and leakproof. In the fine crushing section, VSI Crusher is the substitute of impact crusher, and it is much better in terms of main performance indexes.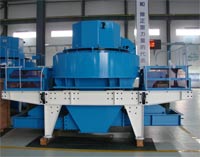 Click
here
to watch more pictures about VSI Crusher!
VSI Crusher Working Principle
(1) Center Feeding:
Raw material falls down into feed hopper, then enter into impellor through central entrance hole. It is accelerated in high-speed impellor, and then is thrown out at speed of 60-75m/s. When it hits impact plate, it is crushed. Final products come downwards though outlet.
(2) Ring Feeding:
Raw material falls down into feed hopper, and then through ring, it is divided into two divisions by material-dividing plate. One enters into impellor through the center of material-dividing plate. The other falls down from the outside of material-dividing plate. Material, which is thrown out by impellor at a speed of 60-75m/s, hits material that coming down from the outside of material-dividing plate. In this way, material is crushed.
VSI Crusher Features and Benefits
1. Advanced double-pump oil lubrication system guarantee shaft bearing lower temperature increase, longer life time, more reliable operation.
2. Main shaft is equipped with imported precision rolling bearing. It makes main shaft work stable, lengthen maintenance cycle, increase productivity.
3. Hydraulic lifting mechanism of upper cover can move away the cover easily, which saves man power during maintenance.
4. Over-vibration device is equipped. There will be alarm when vibration surpasses a stipulated figure. It will stop the machine, in order to protect it.
5. Special dust-proof design for main shaft bearing fully avoid dust entering bearing lubrication part, which make sure the machine work normally.
6. Special feed opening structure make it possible that center feeding and ring feeding comes together, in order to meet requirements of different stones. In addition, this equipment can not only crush stone, but also iron.
7. Shape of material-thronging device is better designed, which improve the utilization ratio.
VSI Crusher Specifications
Model
VSI7611
VSI8518
VSI9526
VSI1140
Capacity (t/h)
Feed both at Center and Cides
120-180
200-260
300-380
450-520
Feed at Center
60-90
100-130
150-190
225-260
Max Feed Size (mm)
Soft Material
<35
<40
<45
<50
Hard Material
<30
<35
<40
<45
Rotation Speed (r/min)
1700-1890
1520-1690
1360-1510
1180-1310
Double Motor Power (kw)
110
180
264
400
Overall Dimension (mm)
3700*2150 *2100
4140*2280 *2425
4560*2447 *2778
5000*2700 *3300
Weight (t)
7.8
10.3
16
25.6
Power
380v-50Hz
Vibrating Sensor
Detect range:0.1-20mm/s continous and adjustable
Lubrication and Hydraulic station
Double Motor Power
2*0.31KW
Safty Assurance
Double oil pumps assure enough oil supply. automatic switch off with no oil stream or hydraulic strength. lower the temprature with cool waterin summer. raise the tamprature with motor in winter.
Overall Dimension L*W*H (mm)
820*520 *1270
Power of Oil Tank Heater
2KW
Attachments:


VSI Crusher PDF Download (2.01MB)
Contact E-mail: [email protected]