Production Line of Ore Grinding
The ore grinding process is significant in the treatment of ores. After mining, the ores are orderly through washing process, crushing process, grinding process, screening process, etc. Finally, we can get the ore products, which correspond with industrial grade of ore particle.
Grinding is a powder making or pulverizing process, ZENITH designs and manufactures a comprehensive line of grinding equipment as mills, classifiers, and related accessories for both wet and dry grinding systems. ZENITH supplies the right grinding solution to every method and application with installation, commissioning, start-up, and continuous lifetime product support services.
Processes of Ore Grinding Production Line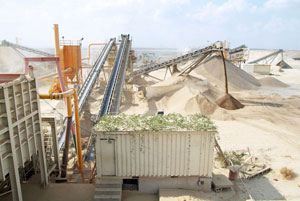 Firstly, the massive materials are sent to jaw crusher, through which we can get the ore particles of needed size. Secondly, the materials are sent to feed bin by elevator, then to the grinding machine for grinding through the vibrating feeder, equally, quantitively, and continuously. Thirdly, the grinded powders are taken to the analyzer for analysis by the airflow of draught fan. The powder of needed fineness, enter into the spiral collector for separation and collecting, along with airflow. Finally, the powder products expel from the pipe.
The whole grinding line consists of main machine (ore grinding plant), analyzer, plumbing installation, blower, jaw crusher, scoop elevator, feed bin, magnetic vibrating feeder, switch board, etc.
The Usage of Ore Grinding Production Line
The production line of ore grinding is applied to the grinding process of minerals, which are used in metallurgy, building materials, chemical industry, mining, etc. Nonflammable explosive material, of which the Moh's hardness is under 8 degree and humidity level is less than 6%, like feldspar, calcite, kaolin, dolomite, talc, mica, barite, fluorspar, rear earth, marble, ceramic, bauxite, manganese ore, phosphate stone, iron oxide red, quartz sand, clinker, active carbon, clay, coal gangue, gypsum, plumbago, carborundum, fire-resistant materials, can be processed by this line.
According to different properties of non-metal ores, we can design special grinding line of nonmetallic ores for you, like grinding production line of coal, plaster, kaolin, etc.
Equipments of Ore Grinding
According to the differences of ores in the Moh's hardness scale, the grinding machines can be divided into two kinds: metallic ore grinding machines and nonmetallic ore grinding machines. The common grinding equipments are ball mills, Raymond mills, high-pressure mills, trapezium mills, etc.
The Advantages of ZENITH Grinding Machines
1. Our grinding machines feature with high production, low pollution, convenience of installment and maintenance of the main machine.
2. The size of products manufactured by ore grinding machines range from 0.613mm(30 mesh) to 0.013mm(1000mesh). The average diameter of particles is 0.033mm(425 mesh)
3. The grinding plants adopt overlap-type multi-level sealing.
4. The dust removal efficiency of the ore grinding mill meets the national emission standard completely.