Sandstone production plant
Sandstone is made of quartz or feldspars and is the most widely used building stone materials. Sandstone is mainly used for railway road slag and road aggregate.
Sandstone production process flow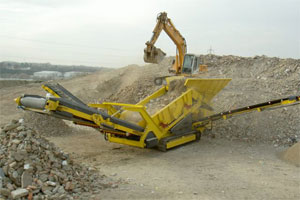 Mining->transportation->crushing->grading classification->final product
The mind undressed raw sandstone ores are sent to crushing station to be crushed and processed. Firstly, jaw crusher does the primary crushing and cone crusher does the secondary crushing. The sieving equipment like vibrating screen is that sieves out stones which are larger than the specifications, then crushes the stones until the sandstones are qualified. The mining final products are building stones. The grain size of undressed raw ores is 600~1mm. According to the size requirements of the user products, there are five kinds of final products and the size grades are 60~40mm、40~30mm、30~16mm、16~5mm、5~1mm.
Sandstone crushing production line can make building sands with all kinds of grain sizes. Sandy particle size is balanced and has high compression strength. Those sands are more suitable to building requirements, compared with natural sand and sand produced by ordinary hammer type sand production. The sands also can improve building quality. This production line features with reliable performance, reasonable plan, convenient operation and high efficiency.
Sandstone production plant equipment
In industry, the grade of quartz sand is being lower and lower. To meet the needs of the industry, mineral addressing process can be used to improve grade. There are several methods:
Crusher: Jaw Crusher, Cone Crusher, sandmaking machine, Integer machine
Fixed piston wind pressure machine
Air Compressor
Nager
Down-the-hole drill
Circle vibrating screen
Transportation equipment: truck, belt conveyor
Sandstone mining
Sandstone crushing
Sandstone grinding