Cobble Crushing plant
The cobble crushing production line is mainly used in manufacturing building aggregate and sands. Cobble stone crusher features high crushing ratio, broken granularity even, simple structure, reliable operation, convenience maintenance, low operating cost, etc. It is widely used in industries like mine, metallurgy, building, highway, railway, water conservancy, chemical, etc.
Cobble Crushing Production Line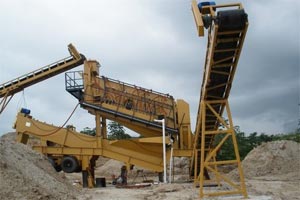 Rough crushing and fine crushing process are included in the cobble stone crushing production line. Jaw crusher is used in rough crushing process: crushing large stones and other materials into small stones; while the impact crusher, in fine crushing process and integer process: further crushing them into smaller stones.
Process of Cobble Production Line
Firstly, the cobble stone are sent to jaw crusher for primary crushing from feed bin through vibrating feeder; then, the produced rough materials are sent by belt conveyor to the impact crusher for further crushing. Secondly, the fine-crushed stones are sent to vibrating screen through belt conveyor. They are divided into stones of several different specifications. The qualified stones are sent to product pile by belt conveyor.
Equipment for Cobble Crushing
The building aggregate production line includes vibrating feeder, jaw crusher, impact crusher, cone crusher, vibrating screen, belt conveyor, etc. Vertical shaft impact crusher (sand-making machine), sand washer are also combined to this production line. According to different technological demands, various types of plants can be combined so as to meet clients' different requirements.
Sand-making Production Line of Cobble
The sand-making production line of cobble features high automation, low operating cost, high crushing efficiency, energy-saving, large throughput, small pollution, and simple maintenance. The manufactured sands, which are epigranular, reasonable graded and in good grain shape, meet the national standard of building sands. This production line is flexible in design, with large production capacity and plants that are easy to maintain. And according to clients' different requirements, relevant improvements in design and technology can be added.
There are many ways to choose sand-making machines of cobble. The mainly are:
Deciding the type of production plants according to output, especially for output per hour.
Choosing plants according to discharge size. Rough crushing and fine crushing process are necessary when making sands. So primary crusher and secondary crusher are required.
Choosing plants according to cobble's hardness because cobbles of different areas have different hardness. So we should choose the cobble sand-making machine based on the crushing strength.