HCS Cone Crusher Overview
HCS cone crusher with high-efficiency and single cylinder hydraulic pressure is a kind of high-tech crusher to meet the requirements of developed countries. The HCS90 cone crusher is designed by ZENITHby combining the USA technology and Chinese metal material function.
HCS Cone Crusher Application
HCS cone crusher is widely applied in cement making industry, building, sand making, metallurgical industry, etc. They are suitable for both metallic minerals and non-metallic minerals, such as iron ore, nonferrous metal ore, granite, limestone, quartzite, sandstone, pebble, etc.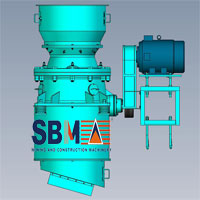 Click
here
to watch more pictures about HCS Cone Crusher!
HCS Cone Crusher Working Principle
The motor drives the eccentric shaft bushing through V-belt, transmission shaft, and transmission gear. The cone makes circle movement at the force of eccentric shaft bushing, and close to mantle from time to time. Raw materials in the HCS90 cone crusher are crushed during the process and are later discharged at the bottom.
HCS Cone Crusher Features and Benefits
1. High efficiency. There supports on the top and the bottom of main shaft, so the main shaft can stand more stave strength and stroke. In addition, special crushing chamber in accordance with lamination theory has highly improved the machine's efficiency
2. High capacity. This HCS90 cone crusher machine is designed consummately by combining the crushing stroke, crushing speed, crushing chamber. Under the same condition, the output of HCS cone crusher is increased by 35-60%
3. High quality. This HCS90 cone crusher machine produces even stones and decreasing needling shaped stones by properly adopts suitable crushing chamber and the lamination theory
4. It only needs to change the fix cone to ensure medium and fine crushing in various crushing chambers
5. Protected hydraulic pressure and lubricate system to ensure overload safety and good bearing lubrication
6. Convenient maintenance. The structure of this cone crusher machine is simple but compact to ensure a convenient maintenance
HCS Cone Crusher Specifications
Feeding widden(mm)
135(100, 80, 50)four types
Max feeding widden(mm)
110(80, 65, 40)
Discharging range(mm)
6-28
Power(Kw)
75~100
Max permitting dimension(mm)
<40
Overall dimension length×widden×hight(mm)
2581×1550×3276
weight(t)
9.5
HCS Cone Crusher lubricate pressure system parameter
Oil motor power(Kw)
1.5
Oil motor pressure(MPa)
16
Oil box cubage(L)
100
HCS Cone Crusher hydranlic pressure system parameter
Oil motor power(Kw)
2.2
Oil motor pressure(MPa)
1.0
Oil box cubage(L)
800
HCS Cone Crusher crushing cavity
Model
Discharge(mm)
Production(t/h)
A
16
65-75
18
70-85
22
85-105
28
110-130
B
11
45-55
13
55-65
16
65-75
20
80-100
C
9
25-35
11
45-50
13
50-60
16
60-70
D
6
20-25
7
25-30
8
30-35
10
35-45
Attachments:


HCS Cone Crusher PDF Download
Contact E-mail: [email protected]