Quartz processing plant
The quartz stones that come from mine will be processed. Generally speaking, quartz sand is the quartz whose fineness is less than 120 mesh and quartz powder is the quartz whose fineness is more than 120 mesh.
Quartz sand is a kind of important industrial mineral raw materials. It is widely used in many industries, such as glass, casting, ceramics and refractory materials, metallurgy, construction, chemical, plastic, rubber and abrasive.
Quartz sand crushing equipment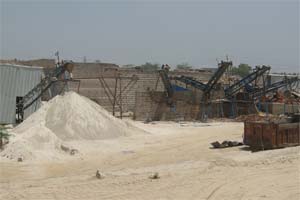 Coarse crushing: Jaw Crusher
Fine crushing: Impact Crusher and Cone Crusher
Sieveing equipment: Vibrating Screen
Conveyor: Vibrating Feeder
Magnetic Separator
Quartz powder grinding machine
The quartz powder grinding mill can be Raymond Mill, Vertical Mill and Ball Mill
Purification methods
In industry, the grade of quartz sand is being lower and lower. To meet the needs of the industry, mineral addressing process can be used to improve grade. There are several methods:
Scrubbing and Desbmw
Scrubbing is that using the grinding strip force that is between mechanical force and sand grinding force to remove those things on the surface of quartz sand such as film iron and impurity mineral mud, then crushing and wiping mineral collection which does not form into monomer. At last through grading operations, quartz sand is purified. At present, there are mainly rod milling scrubbing and mechanical scrubbing. The primary factors that effect scrubbing are mainly structure characteristics and configuration forms of scrubbing machine. Secondary factors are scrubbing time and scrubbing concentration(50%-60% is better).
Magnetic Separation
Magnetic separation is used for removing the magnetic minerals in quartz sands. For example, strong magnetic machine can be used to remove weak magnetic minerals such as hematite, limonite and black mica and strong magnetic can be removed by weak magnetic machine, such as magnetite.
Flotation
Flotation is used for removing feldspar and mica in quartz sands, which can't be removed by magnetic separation, to improve the purity.
Acid Leaching
Acid leaching utilized the characteristics that quartz is insoluble in acid (except HF acid) and other impurities mineral acid can be dissolved to realize the further purification of quartz sands.
Microbiological Leaching
Microbiological leaching is to use microorganism leaching to remove film iron or contaminated iron on the surface of quartz surface. This is a new kind of iron removing technology in recent years.