Basalt processing plant
Basalt features with hardness and is the ideal building material for building highways, ports, railway and airport. Basalt also features with alkalescence so it has well bondability with pitch that features with subacidity. For these features, basalt is ideal stones for asphalt mixture. With the development of technology, basalt fiber, rock wool products and cast stone products are widely developed and used.
Basalt processing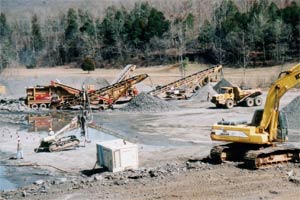 For sand aggregate which is used for railway road slag, asphalt pavement and concrete, there are high requirements for its grain type and gradation. So when we design basalt crushing process, we choose crushing equipments which are based on laminated principle to do main crushing task so that the wearing pieces will be less worn. Typical laminated device mainly is two-stage jaw crushing or jaw crushing with cone crushing process. If the customer has high requirement on final stone grain type, Impact Crusher is added to do integer crushing so that three-stage crushing flow is formed. Although the capitalized cost of three-stage crushing flow is higher, the three-stage crushing craft will greatly reduce the production cost.
Basalt gravels use mined basalt as raw material. Through crushing, grinding and processing, basalt powder is got, which is important raw material for rock wool, heat preservation cotton producing.
Basalt processing equipment
Crushing and sieving equipment
The purpose of basalt crushing is to form crushed aggregate with cube shape not prolate shape. The crushing equipment mainly is Jaw Crusher, which is used for primary crushing(not need when using gangue). Normal Impact Crusher or Cone Crusher is used as secondary crusher. The sieving equipment mainly is vibrating screen.
Grinding equipment
The main purpose of grinding is produce basalt powder and deep basalt processing. The grinding equipment mainly is ball mill, rod mill, Raymond mill, high pressure mill, vertical mill and T-type mill.