River Stone Crushing plant
The river stone crushing plant is the specialized production line to manufacture sands and stone materials which are used in industrials like building, highway, railway, etc.
River Stone Crushing Equipments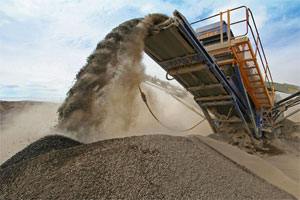 The main river stone crushing equipments are jaw crusher, cone crusher, impact crusher, impulse-type crusher, vibrating feeder, vibrating screen, sand washer, belt conveyor, etc. In the aspect of configuration, various types of equipments are combined to form an integrated production line according to different technical demands. Meanwhile, a complete set of dust-removing plants equipment can be allocated in order to protect the environment.
The jaw crusher belongs to rough crusher series. The interaction of the upper and lower jaws in the crushing cavity makes the stones inside squeezed and crashed.
The Impact crusher, which is behind the jaw crusher, belongs to fine crusher. With its feature of even and fine discharge size, the stones expelled from the discharge gate can commonly reach the standard without any treatment.
River Stone Crushing flow chart
The river stones enter feed bin---feeder---jaw crusher---impact crusher---vibrating screen--- finished products. The machines in-between are connected by conveyors.
The basic process of sand-making production line: Firstly, the stones are primarily crushed by primary crusher, like jaw crusher; then, the produced rough materials is sent by belt conveyor to the fine crusher for further crushing. Secondly, through vibrating screen, the fine-crushed stones are divided into two parts: the first part of stones, which meet feeding size of manufactured sands, enter into the sand-making machine; and the others return to fine crusher for second crushing. In the sand-making machine, stones are crushed. Some are made into sands, and then cleaned by sand-washing machine, while the rest need being crushed again.
Benefits of River Stone Crushing Production Line
This river stone crushing production line features high automation, adjustable size of blowdown, high crushing efficiency, energy-saving, large output. The produced sands are granularity even, and in good size. The sands are cubes, with low content of aciform sand and sheet sand. They are used in all kinds of large-medium-small construction projects, like highway, bridge, etc.