Imapct Crusher Overview
Imapct crushers are suitable for materials whose compressive strength is under 360Mpa, and particle size is under 500mm. This kind of machine features easy maintenance, high crushing ratio and crushing efficiency etc. With end products in cubic shape, impact crushers are the ideal crusher for aggregates processing in high-type highway building, water conservancy and power construction.
Imapct Crusher Application
Impact crusher is suitable for materials whose compressive strength is under 360Mpa and side length is under 500mm. Impact crusher are preferred to crush granite, limestone, rivel gravel, etc.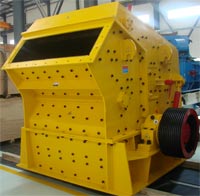 Click
here
to watch more pictures about Impact Crusher!
Imapct Crusher Working Principle
Impact crushers use impact energy to crush materials. Driven by the motor, the rotor revolves at a high speed. Revolving blow bars in the rotor blow the materials. Then the materials will be thrown to the impact plates for secondary crushing. The materials will be shot back to the blow bars again. This process repeats until the materials are crushed to the required size and discharged through the discharging opening at the bottom of the machine. Adjusting the gap between the impact rack and rotor support, the size and shape of the end products can be changed.
Imapct Crusher Features and Benefits
1. Energy-efficient
2. Unique structure, keyless connection
3. Blow bar made of high chromium steel, impact plate with a special shape
4. End products with cubical shape
5. Easy operation and maintenance and high reliability
Imapct Crusher Specifications
Type
Spec.
Feeder Opening(mm)
Feeding Size (mm)
Crushing Capacity(t/h)
Motor Power(KW)
Weight(t)
PF-1010
-1000-1050
400-1080
350
50-80
55-75
12
PF-1210
-1250-1050
400-1080
350
70-120
110-132
14
PF-1214
-1250-1400
400-1430
350
130-180
132-160
18.6
PF-1315
-1320-1500
860-1520
500
160-250
180-260
19
Impact Crusher Work Notice
In the work process, pay special attention to what happen as follows:
A.the bearing temperature is too high
Solution:
1. First, check whether the grease is reducing;
2. Standard terms of bearing grease should be filled with volume 50%;
3. timely clean bearings, replace grease;
4. If badly worn, replace the bearings.
B.In operation process, crushing chamber internally generated percussion sound very keen.
solution:
1. immediately turn off the power, and clean up the crushing chamber to check whether there are the material that can not be broken.
2. Check the lining of the fastening conditions and the gap between the hammer and the liner; whether the wear-resistant lining is shed.
3. Replace the broken machine
C.The final size of impact crusher is too large.
solution:
1. adjuste the gap between before and after the frame, or replace the worn grave liner and board hammer;
2. adjust position of the counter-attack planes
Attachments:


Impact Crusher PDF Download (2.01MB)
Contact E-mail: [email protected]