Marble processing plant
Marble can be processed into building stone and powder, and mainly be used into construction, dope, paint, plastic, rubber, and papermaking.
Marble production line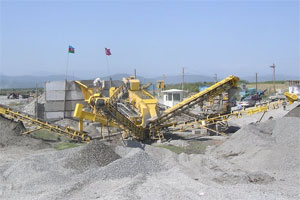 Marble production line includes crushing and screening two procedures.
The marble stone is transported to primary crusher via feeder for primary crushing. Then the crushed marbles were transported to impact crusher by the belt conveyor for secondary crushing and fineness crushing. Then the crushed marbles delivered to vibrating screen. The crushed marbles are screened out into several different types. Marbles with unsatisfied size will be returned back to impact crusher for recrushing.
Marble grinding production line mainly uses mill, and it can produce 200 to 400 mesh powder.
The advantages of marble production line
The marble production line is of high automation, almost no manual operation except for the equipment power on, power off and routine maintenance. It's of It features high efficiency, low operation cost, large output, high benefits, and finished stones of uniform size and good-shaped. What's more it meets the national high-speed material requirements.
Marble quarry machine
Marble production line consists of jaw crusher, impact crusher, vibrating feeder, vibrating screen, belt conveyor and other key equipments. There are many choices of marble production line. The customer can choose the crushing equipment, according to their requirements on the yield and particle size.
Marble powder manufacturing line mainly uses marble grinding mill, including Raymond mill, MTM medium speed mill, and fine grinding mill MTW European version of the vertical milling machine.