PY Cone Crusher Overview
PY cone crusher is the rock cone crusher which is the earliest appearance in the world, and it is used widest and larger quantity crusher machine at present. With the improvement of the series of cone crusher, their structure is more perfect and the technology parameter is more advanced, so these rock cone crusher has excellent performance in the aspects of manufacture, installation, use and maintenance etc.
PY Cone Crusher Application
PY cone crusher is widely used in industries like metallurgy, construction, road building, chemistry etc to crush many kinds of mid-hard or hard rocks and ores such as iron ore, limestone, granite, basalt, quartz etc. The standard cone crusher are used for intermediate crushing; the medium ones are used for fine crushing; and the short head ones are used for super thin crushing.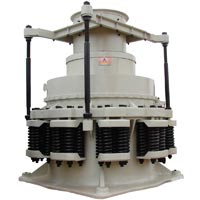 Click
here
to watch more pictures about PY Cone Crusher!
PY Cone Crusher Working Principle
PY Cone crusher consists of frame, transmission device, hollow eccentric shaft, bowl-shaped bearing, crushing cone, springs and hydraulic pressure station for adjusting discharge opening. During the cone crusher operation, the motor drives the eccentric shaft shells to turn around through a horizontal axle and a pair of bevel gear. The axle of crushing cone swings with the force of eccentric shaft shell so that the surface of the crushing wall is close to the roll mortar wall from time to time. In this way, the ores and rocks will be pressed and crooked and crushed in the cone crusher.
PY Cone Crusher Features and Benefits
1. High productivity; high quality
2. Less machine stop time
3. Easy maintenance and low cost
4. Unique crushing ability in primary, secondary and tertiary crushing
PY Cone Crusher Specifications
Model
Diameter of Bottom End of Contral Crushing Head (mm)
Max Feed Size (mm)
Adjustable Range of Discharge Opening(mm)
Crushing Capacity (t/h)
Motor Power (kw)
Rev. of Eccentric Shaft r/min)
Weight (t)
Overall Dimension (mm)
PYB600
600
75
12-25
40
30
356
5
2234-1370-1675
PYZ600
600
35
3-13
5-23
30
356
5.3
2234-1370-1675
PYB900
900
115
15-50
50-90
55
333
11.2
2692-1640-2350
PYZ900
900
60
5-20
20-65
55
333
11.2
2692-1640-2350
PYD900
900
50
3-13
15-50
55
333
11.3
2692-1640-2350
PYB1200
1200
145
20-50
110-168
110
300
24.7
2790-1878-2844
PYZ1200
1200
100
8-25
42-135
110
300
25
2790-1878-2844
PYD1200
1200
50
3-15
18-105
110
300
25.3
2790-1878-2844
PYB1750
1750
215
25-50
280-480
160
245
50.3
3910-2894-3809
PYZ1750
1750
185
10-30
115-320
160
245
50.3
3910-2894-3809
PYD1750
1750
85
5-13
75-230
160
245
50.2
3910-2894-3809
PYB2200
2200
300
30-60
490-750
260-280
220
80
4622-3302-4470
PYZ2200
2200
230
10-30
200-580
260-280
220
80
4622-3302-4470
PYD2200
2200
100
5-15
120-340
260-280
220
81.4
4622-3302-4470
Attachments:


PY Cone Crusher PDF Download (2.01MB)
Contact E-mail: [email protected]