Mobile Crusher Overview
Mobile crusher is fully adaptable to all mobile crushing needs. It sets up a new range of business opportunities for contractors, quarry operators, recycling and mining applications. The mobile crusher machine can eliminate the obstacle of the crushing places and circumstances, and offer the high efficiency and low cost project plants for the client. To the client, it is the best choice.
Mobile Crusher Application
Mobile crusher plant consists of three types with mobile jaw crusher plant, mobile impact crusher plant and mobile cone crusher plant.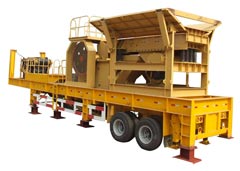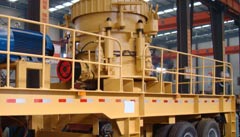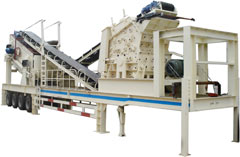 Mobile Crusher Plants' Features and Benefits
1. integrated machine set
2. high flexibility
3. lower transportation cost
4. high efficiency
5. easy to adjust and to collocate
6. reliable performance and conveninet maintainace
Easy to transport :
Mobile crusher has high on-board chassis, short wheel base and tight turning radius, which is convenient for road transportation, especially for driving to crushing sites that are difficult to access. The set-up time of the mobile crusher plant are greatly reduced, compared with the stationary one.
Greatly reduce material transportation cost:
Mobile crusher crushes the material on site, without transporting the materials for off-site crushing, so the material transportation cost is greatly reduced.
Wide applications of the moblie concrete crusher
According to different customers- requirements, mobile crusher can be operated as independent units, or as two-stage crushing plant with primary and secondary crushing, or as three-stage crushing plant with primary, secondary, and tertiary crushing. Likewise, mobile crusher can be easily adjusted to suit the crushing application by choosing feeding to crusher or feeding to screen options.
Reliable performance and convenient maintenance of the mobile crusher plantss
mobile crusher adapts excellent quality crusher, screen and feeder made from Shanghai Zenith Company, yet the quality is stable and reliable. Normal belt conveyor can be used for conveyance of material, which is of mature technology, simply operation, easy maintenance, and low investment.
Customized production and flexible configuration using mobile concrete crusher
We can provide special mobile crusher plant based on customers- site, material, and particle shape requirements, etc. Such as self-load belt conveyor, multiple machines combined type, single machine type and so on.
Mobile Crusher-Jaw Crusher Series Plant Specifications
Parameter
Feeder Model
Jaw crusher Model
Belt conveyor Model
Extended conveyor
Generator
Capacity
Power
Model
YG938E69
GZD-960X380
PE600X900
B650X7M
adapting
adapting
70-150t/h
91.5KW
YG1142E710
GZD1100X4200
PE750X1060
B800X9M
adapting
adapting
80-200t/h
134KW
YG1349E912
GZD-1300X4900
PE900X1200
B1000X11M
adapting
adapting
150-300t/h
146KW
Mobile Crusher-Impact Crusher Series Plant Specifications
Type
Vibrating Screen Type
Impact Crusher Type
Belt Conveyor Type
Capacity(t/h)
Power(kw)
Y3S1548F1010
3YA1548
PF1010
B500-7M
30-275
70-90
Y3S1848F1210
3YA1848
PF1210
B650-7M
56-330
128.5-150.5
Y3S1860F1214
3YA1860
PF1214
B650-8M
65-586
154-190
Y3S2160F1315
3YA2160
PF1315
B800-8M
81-720
210-297
Mobile Crusher-Cone Crusher Series Plant Specifications
Model
Vibrating Screen Type
Cone Crusher Type
Belt Conveyor Type
Capacity (t/h)
Power (kw)
Y3S1548Y55
3YA1548
PYB900
B500-7M
50-90
75
Y3S1848Y90
3YA1848
HCS-90
B650-7M
65-130
99-134
Y3S1860Y160
3YA1860
CS 4 1/4
B650-8M
110-455
212.5-220.5
Y3S2160Y220
3YA2160
PHPC-220
B800-8M
140-330
257.5-264.5
Mobile crusher fixed Method:
After choosing a good mobile crusher operating on-site location,the first work is to make the operating site flat.then run the mobile crusher to the right location,open lifting legs to erect mobile crusher. Trench excavation below the fixed legs. The size of pit is changed according to local soil, the more loose the soil is, the deeper and the larger the pit is.Then fix the activities outrigger to the fixed legs. Pour concrete into the pit. After solidification of concrete, adjust the concrete surface, so that support of mobile crusher is more stable. Finally retract lifting legs. In order to make support more stable,you can add sleepers or other auxiliary support tools.
Attachments:


Mobile Crusher PDF Download
Contact E-mail: [email protected]