Feldspar Process
Feldspar is the generic term of feldspar race rocks. Feldspar is a kind of aluminum-silicate mineral which contains calcium and sodium and potassium. In the crushing process, it is the most commonly seen mineral, which is 60% in the crust mineral. The feldspar is in igneous rocks, metamorphic rocks and sedimentary rock.
The industrial use of feldspar mineral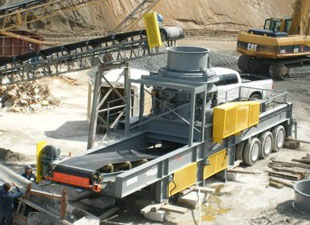 In addition to being glass industrial raw material(50-60% of total amount) and ceramic industry raw material(30% of total amount), the feldspar mineral can be used at other industrials, such as chemical, abrasive and abrasive tools, glass fiber and welding wire.
1.Glass flux
2.Ceramic porcelain body ingredients
3.Ceramic glaze
4.Abrasive: powder feldspar is used for abrasive and abrasive industry
5. Potassium feldspar can be used as the raw materials of potash and aluminum collection
6.One of cement raw material.
7.Feldspar can be used as filling material in many industries, such as paper, refractory materials, machinery manufacturing, the coating and the welding wire, etc.
Potassium feldspar mining
1. Hammer mining method: in the project of potassium feldspar mining, the rental fee for digging machine with hammer mill is 1500yuan and the fuel cost is 500-800yuan per rock. The max mining efficiency is 15m3 per rock, with high crushing degree and high cost. Hammer mining method mainly is to striking and crush the surface of rocks. The crushing degree is serious and the mined potassium feldspar has low utilization ratio. Parts of available feldspar are mixed with rocks or other materials and the follow-up extraction cost is high.
2. Splitters disintegrating method: the mining efficiency can reach 20-30m3 a rock and the using time is only 10 seconds.The mining cost is only fuel cost and labor cost, which is only one-tenth of hammer mining method. From the above, the most suitable equipment for potassium feldspar and albite is the rock splitters.
Feldspar rock crushing line
Feldspar crushing line consists of primary crusher, secondary crusher, vibrating feeder, vibrating screen and belt conveyor. Large block feldspar rock is crushed by primary crusher, then goes into impact crusher or cone crusher for secondary crushing. Then through the vibrating screen, the crushed materials are sieved to get crushed materials with different size.
The large ones need to be transported into secondary crusher to get circulation crushing, with the help of belt conveyor. At last, we will get the product that conform to the industry requirements. For protecting environment, this feldspar crushing plant will equipped with auxiliary equipments, such as dust catcher and blower.
The commonly used primary crusher in feldspar crushing line is Jaw Crusher. The secondary crusher is cone crusher and impact crusher. The feldspar mobile crusher is feldspar crushing line that can do mobile work and is used in recent years. It features with less area, convenient to move, free installation and high crushing efficiency.
Feldspar grinding mill
The feldspar grinding mill is the grinding mill that can grind the crushed feldspar into fine powder. The commonly used grinding mill is feldspar vertical mill. The vertical grinding mill is a kind of advanced mill that is based on our ZENITH Machinery's mill production experience in many years. It features with low investment cost, low operating cost, high drying capacity, high product quality, easy maintenance and more environmental protection.
Other feldspar grinding mills are ball mill and Raymond mill. The Europe version trapezoidal mill is the newest feldspar grinding mill that in our company and is the best choice in the feldspar grinding stage.
Feldspar Mining
Feldspar Crushing