Coal Processing
The process and disposing of coal cover many industrial processes, like coal mining, coal crushing and screening, coal grinding, deep processing of coal, etc.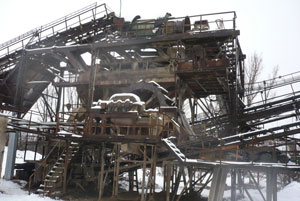 Coal is the main solid fuel, and one kind of caustobiolith. Coal plays a very important role in modern industry and daily life, like power-supply, heat-supply, etc.
Ordinarily, coal mining is divided into opencast working and underground mining. When ore layers are close to earth's surface, opencast working is rather economical. And about 40% of the coal in the world is produced through opencast working. However, most coal layers are far from earth's surface, so we need adopt underground mining.
Coal is widely used in the world. According to its intended use, coal is summarized to have two main purposes: steam coal and coking coal. Coal crushing is the chief process after the raw coal is exploited. ZENITH Company supply the coal crushing and screening equipments such as coal crusher, coal grinding mill or coal mill etc, which are applied to crushing process of raw coal for industries and sectors, such as coal, electric power, and scientific research. Also they can be used to crush the materials, such as brick works, like slack, slag, shale, coal gangue, construction waste, etc.
In order to remove the gangue rock contained in the coal, which can sinter into clinkers in high temperature combustion and cause the blocking of furnace or other combustion plants, the washing process of coal is necessary. Coal washers are the important coal processing equipments in washing process.
Coal grinding process is a significant process of coal processing, during which the crushed coal briquettes are grinded into braise. Coal mill is the machine that crushes the coal briquette and grinds it into braise. It is the main accessory equipment of pulverized-coal furnace. There are many types of coal mills, and according to the rotate speed of work parts of coal mills, they can be divided into three kinds: low speed coal mill, medium speed coal mill, and high speed coal mill.