Cement
Add water to powdery hydraulic inorganic gelled material, and stir to slurry, which harden in the air or in water. It is used to help the dispersed grain materials, like sand, stone, cement into mortar or concrete.
Classification of Cement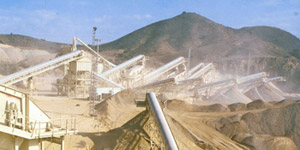 Cement is divided into three kinds as its usage: general cement, special cement and cement with special performance. General cement is cement that usually used in ordinary civil construction project, and road silicate is a kind of special cement.
Divide as functions of cement:
1) Silicate cement, also called the Portland cement in foreign countries.
2) Aluminate cement;
3) Sulphate aluminium cement;
4) Aluminoferri cement;
5) Fluoaluminate cement;
6) Pozzuplana or latent hydraulic material, and other active materials are the main components of cement.
Gypsum Slag Cement
Take granulated blast-furnace slag as the main componential material, and then add adequate gypsum, silicate cement clinker or lime. At last finely grind them, so gypsum slag cement is manufactured.
Production Flowchart of Silicate Cement
Silicate cement is typical in production of cement for its productive technology. Take limestone and clay as the main materials, through crushing, dosing and fine grinding, raw material is produced. Then, send them to cement kiln for calcining raw materials into clinker. Finally, add adequate gypsum into clinker (sometimes mixed materials or additives are added). Finely grind the mixture, so silicate cement is manufactured.
Cement Production Process
The production of cement is generally divided into three stages: preparation of raw materials, clinker calcining and cement manufacture.
(1) Raw Material Grinding
Dry-type grinding is generally used in closed operation system, which means: after fine grinding, the raw material is sent to powder classifier; and rough powder backflow to mill for grinding again. In addition, most materials are dried and grinded at the same time in the grinding mill. The plants used are tube mill, medium-discharging mill, roller-type mill, etc.
Wet-type grinding often use open system, like tube mill or rod mill which one-shot of the mill and non-backflow. However, the closed system with classifier or sieve bend is also adopted. During the grinding process of raw material, the cement crushers used are hammer-type crusher, ball mill, small-scale mill, which are common cement crushers.
(2) Calcine
The main plants to clinker are vertical kiln and rotary kiln. The vertical kiln is suitable to be used in plant of relative small scale, while rotary kiln, large or medium plants.
(3) Grinding Process
The technology of closed-circuit grinding (closed operation system) is often adopted in the fine grinding process of cement clinker. In order to prevent powder from flying in production, cement plants all install dust collecting plant. Electric dust collector, bag-type dust collector, and rotoclone collector are the common plants used in cement plants.