Cement Mill
Cement Mills mainly include is a kind of industrial mills which is mainly used in the cement production line. The most commonly used mills include Raymond Mill, Vertical Mill and Cement Ball Mill. In the cement production line, we use cement crusher for cement crushing process, then we need cement mill for fine grinding stage and other optional equipments such as screen, feeders, conveyors applied in processing.
Cement Ball Mill Process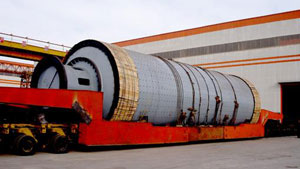 1. Ball Mill: single open-circuit mill. It operates along with the powder separator in closed-circuit grinding process. The process belongs to traditional grinding process.
2. Vertical Mill: The equipment operates together with the powder separator in a vertical grinding system, a pre-grinding system of Ball Mill. It is applicable to the production of raw materials and coal powders.
3. Roller Press: It operates together with the powder separator in a roller press grinding system. The equipment forms the pre-grinding, joint grinding, semi-final grinding system together with Ball Mill and powder separator.
Cement Vertical Mill
LM series Vertical Mills of ZENITH overcome defects of traditional cement mill, including low productivity and high energy consumption. The upgraded big grinding equipment is the result of top European technologies, ZENITH 's advanced designs, unique understandings of market demands and years of efforts.
The Cement Vertical Mill adopts a reasonable and reliable design in the structure. Along with advanced production process, the mill integrates functions of baking, grinding, powder separation and pulling. Thanks to the advanced technologies and high economic efficiency, the Cement Vertical Mill meets every need of our clients, particularly in large-scale cement grinding process. In many major aspects such as reducing the fineness when cement goes into the grinding mill, using the crushing process instead of grinding process to raise the every Ball Mill productivity in per hour, increasing cement strength, and even carrying out the new standard of cement, the Cement Vertical Mill has the important significance.
Features of Cement Mill
1. As ball mill crushes and grinds materials quite randomly, the produced particles have a wide range of sizes and are usually in a ball shape.
2. The Vertical Mill and roller press (including horizontal roller mill) are designed with the layer-based crushing principle. It selectively crushes materials, and these hard and defective materials will be the last to crush.
3. Roller press: The equipment crushes materials on different layers under high pressure (around 80 to 150MPa). The equipment will fully crush the materials into pie shape. Then the materials will be discharged by gravity. Such feature makes the roller press becomes the most efficient crusher by now.