Sand Gravel Production Line
Sand gravel plant specializes in producing building sand and stone materials. The plant could produce rocks, sandstones and pebbles into building sand with various granularities. Sand produced by the plant enjoys even granularity and a high level of hardness, making it more competitive than natural sand and sand made by traditional hammer sand-washer. The sand could improve the quality of buildings.
In the gravel sand plant, the materials will go to the Jaw Crusher through feeder, and then go to the sand-maker and Impact Crusher after being crushed. Then the vibrating screen will grade the materials according to their size. After being washed by a efficient sand-washer, we will get sand products, including sandstones and artificial sand.
Sand gravel production line process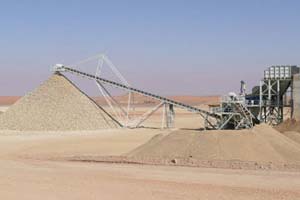 In the sand gravel production line, first, the vibrating feeder will send the stone materials evenly to the Jaw Crusher for primary crushing. Next, the belt conveyor will send the coarsely crushed materials into the sand-making machine for further crushing. The finely crushed materials will then be sent to the vibrating screen, where materials that meet the size requirement will be sent to the sand-washer for cleaning and then become products. At the same time, the vibrating screen will return materials that fail to meet the size requirement to the sand-maker for re-processing in multiple closed circuits. We can mix and grade the product granularities as our clients requirements. We could add a powder separator and dust remover in the case of dry production process.
Features of the sand gravel production line
The sand gravel production line enjoys a high level of automation and low operation cost, featuring features high crushing efficiency, energy conservation, high productivity, less pollution and easy maintenance. Sand produced by the plant meet the national building-sand standard in terms of granularity, sand shape and grading.
The sand gravel production line requires little manual operation except turning on, turning off and daily maintenance. The plant enjoys high production efficiency, low operation cost, high productivity, and high return. Sand produced by the plant boasts even granularity and shape, fully meeting national standard for high-speed feeding materials.
We assemble the crushing equipments of various levels rationally and design the location of each equipment prudently. Therefore, the plant occupies very small space while has high economic returns, good product quality and low powder productivity. The plant also has an advanced electronic operation system to ensure smooth discharging, reliable and easy operation as well as efficiency and energy conservation.
Artificial sand