Manufactured Sand Making
Materials in the manufactured-sand production line will be processed by the feeder, Jaw Crusher, sand maker and Impact Crusher. Then the vibrating screen will separate stone materials by their size. After being washed by the sand washer, the materials will become sand products. The sand production line produces 50 to 500 tons of sand per hour.
Manufactured sand production process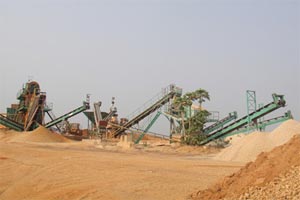 The process consists of the following elements: stockpile, feeder, Jaw Crusher, Impact Crusher, vibrating screen (stone products), sand washer, (sand products). The equipments are connected by conveyors. The stone materials are sent evenly by the vibrating feeder to the Jaw Crusher for primary crushing. Next, the belt conveyor will send the materials to the sand maker for further crushing. The fine crushed materials will be sent to the vibrating screen for screening, where materials meet the size requirement will be sent to the sand washer for washing and become products. Materials that fail to meet the size requirement will be returned from the vibrating screen to the sand maker for re-processing in multiple closed circuits. The sand products can be mixed and graded according to the requirements of the client. We can add powder separator and dust remover to the production line in case of dry production process.
Features
Stone products produced by the stone production line meet the GB14685-2001 standard.
The production line can be installed in movable, half movable manner or on mobile vehicle.
We could grade and mix the particle sizes in accordance with our client's requirement.
The production line features good particle size, high efficiency, fewer pin-shaped particles, high efficiency and energy conservancy.
The production line mainly consists mainly of vibrating feeder, Jaw Crusher, Hammer Crusher, newly developed Impact Hammer Crusher or Efficient Strong Hammer Crusher, circular vibrating screen or linear screen, belt conveyor, centralized electronic control system.
We can assemble the sand production line in accordance with the size, productivity and usage of the materials as required by out clients. We offer complete pre-sale, sale and after-sale service. We design the technological process according to the specific situation of the production site, bringing the most rationally designed and economic efficient production line to our clients.
Artificial sand