Coal Crusher
Coal crusher can crush the raw coal and get coal products which can meet the industry needs in particle size. The coal crusher plays an important role in coal grinding plant. Generally, coal crusher is used as primary crusher to do raw coal crushing.
The application of coal crusher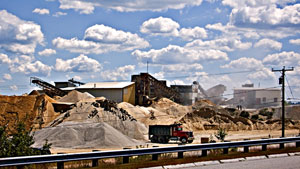 Coal crusher is applied to some industries and departments, such as coal, electric power, scientific research, etc. It is used for crushing coals, ores, rocks or other materials with medium hardness. The common coal crushers are jaw crusher, hammer crusher, cone crusher and mobile crusher.
Coal Gangue
Coal gangue is a kind of fuel with lower calorific value. In kaolinite coal gangue, there are abundant aluminum resources and a large number of other available mineral components. With the technology development, coal gangue got multipurpose use.
There are a large number of useful materials in coal gangue, such as silicon, aluminum, iron and potassium, etc. With the help of related cosolvents, coal gangue can be decomposed in low temperature to produce white carbon black and some chemical products can be got, such as hydrogen ferric oxide and aluminum hydroxide.
Coal gangue crusher features high production, low noise and perfect coal crushing efficiency. It can solve the problem that the hammer and the scaleboard of old crusher are fast worn. Coal gangue crusher are mainly used in material crushing in brick and tile factory, such as coal cinder, slag, shale, coal gangue and construction waste. The common coal gangue crushers are jaw crusher, gyratory crusher, cone crusher, roll crusher, hammer crusher and impact crusher, etc.
The advantages of coal gangue crusher
1. Coal gangue crusher is using multi-channel discharging, which can improve output and reduce the dust circulation sedimentation. The coal gangue crusher features perfect absstreiferwirkung and the dust arrester installation is not needed.
2.Super composite wear-resisting hammer, whose service life is several times of traditional crushing equipments or more.
3. Coal gangue crusher is hard to be blocked and features well deformability and high security coefficient. It can be working in rainy rocks.
4.Discharging size can be adjusted at clients' options and the wearing parts can not affect the size.
5. For the main shaft is not easily worn, it can be used in a long time and it is not necessary to change a new one.
6. The output of coal gangue crusher is quite large. The crusher also features low energy consumption, which can save 40% of energy or more, compared with other crushers in the same output.
7. Easy maintenance. The hammer can be easily changed with the door opened. The complete machine will not be dismounted.
8. The coal gangue crusher also features high combined revenues.