Iron Ore Beneficiation Plant
The main iron ore beneficiation process are gravity concentration, floatation separation, high-intensity magnetic separation, multi-Beneficiation drafts and weak-intensity magnetic separation after magnetic roasting.
Iron Ore Beneficiation method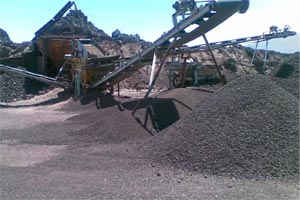 Magnetic Separation
As the magnetic differences in ores, it is a kind of hematite ore Beneficiation draft, which separate the ores in uneven magnetic field.
Flotation separation
also called the froth flotation, is a kind of Beneficiation draft which is based on the diversity of physicochemical property on the ore surface.
Gravity concentration
As to the compactly-crystallized hematite-magnetite quartzite, gravity concentration draft is widely used to dress ores that embedded with coarse particles. And high-intensity magnetic separation or flotation separation is used to dress ores of fine size. For clayey hematite-magnetite quartzite, ore washing process and dry-type magnetic separation is mainly adopted.
Now magnetic-gravity concentration process, magnetic-flotation separation process or gravity concentration-magnetic-flotation separation process are mainly adopted to dress iron ore. In the magnetic-gravity concentration process, magnetite is firstly recovered by using weak magnetic field; then hematite ore is recovered from its tailings by gravity concentration draft. Flotation separation is the main process of magnetic-flotation process to separate hematite concentrate. Gravity concentration draft is used to recover coarse-sized hematite ore and magnetite, and magnetic separation is adopted to recover fine-sized magnetite.
Especially, by adopting high-intensity magnetic separation- flotation separation, the concentrate grade of hematite ore in some mines is above 65%, and the recovery of iron ore concentrate reach 85%.
Hematite Ore Beneficiation Process
In resent years, hematite beneficiation process obtains great process. The main Beneficiation drafts are high-intensity magnetic separation, which is represented by pulsation high gradient electromagnetic separator, and flotation separation which is represented by SH series. Magnetic separation and flotation separation can be used in magnetite beneficiation.
The mined ore is primarily crushed by jaw crusher (jaw stone crusher);
After being crushed to reasonable fineness, it is sent to ball mill;
The ore is crushed and grinded by ball mill;
The ores, grinded by ball mill, will enter to the next process: classification;
Solid materials have its specific gravity, so the precipitating speed in the liquid is diverse. The spiral classifier is designed in accordance with this principle to classify ore mixtures;
The ore grains will be sent to flotation machine. Diverse medicines are added according different ore properties, which make the needed minerals separate from other materials.
Iron Ore Beneficiation Equipments
Iron Ore Beneficiation Equipments: jaw crusher, cone crusher, roller-type crusher, impulse-type crusher, feeder, belt conveyor, ball mill, spiral classifier, jigger, magnetic separator, flotation separator.