Copper Ore Dressing Plant
Flotation separation, magnetic separation, gravity concentration, or wet-type metallurgy are mainly adopted in copper ore dressing process.
According to ores' different natural type and the ratio of oxidize copper and sulfide copper, three kinds of copper ores are divided: sulfide ore, oxidized ore, mixed ore. The processing technology is as follows:
Copper Ore Dressing Technology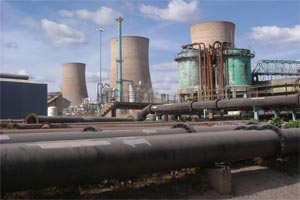 Polymetallic sulfide ores
According to diverse properties of ores, there are many dressing methods to be chosen: bulk flotation, differential flotation, bulk and differential flotation, flotation separation-gravity concentration, flotation separation-magnetic separation, flotation separation-wet-type metallurgy, etc.
Oxidized ore
The method that flotation separation combining with wet-type metallurgy or method of segregation process combining with flotation separation is normally adopted in oxidized ore dressing process. For the oxidized ore which contains combined oxidized copper highland ore, wet-type metallurgy is usually adopted.
Mixed ore
Flotation separation is often used in mixed ore dressing process, which can be treated along or with sulfide ore. The method that flotation separation combining with wet-type metallurgy is also can be adopted.
Copper Ore Dressing Process
The exploited ores are primarily crushed by Jaw crushers. They will not be sent to ball mill by elevator and feeding machine until being reasonable fineness. The fine ground ores, which has been crushed and grinded by ball mill firstly, will enter to the next process: classification. After classification, ores are sent to magnetic separator.
In magnetic separator, the magnetic substances will be separated from the mixtures by magnetic force and mechanical force, because various ores have different specific susceptibility. Going through the primary separation by magnetic separator, the ore particles are sent to flotation separator. Different drugs will be added according to different mineral properties.
Because of containing a lot of moisture, the needed mineral substances, which are firstly separated, must be primarily concentrated by concentrator; then be oven-dried by drying machine. So we get the dry mineral substances.
Copper Ore Dressing equipments
The copper dressing equipments are jaw crusher, conveyor, feed bin, feeder, ball mill, classifier, agitation vessel, flotation machine.